Monitoring Automations
Turn Alerts Into Friendly Status Page Updates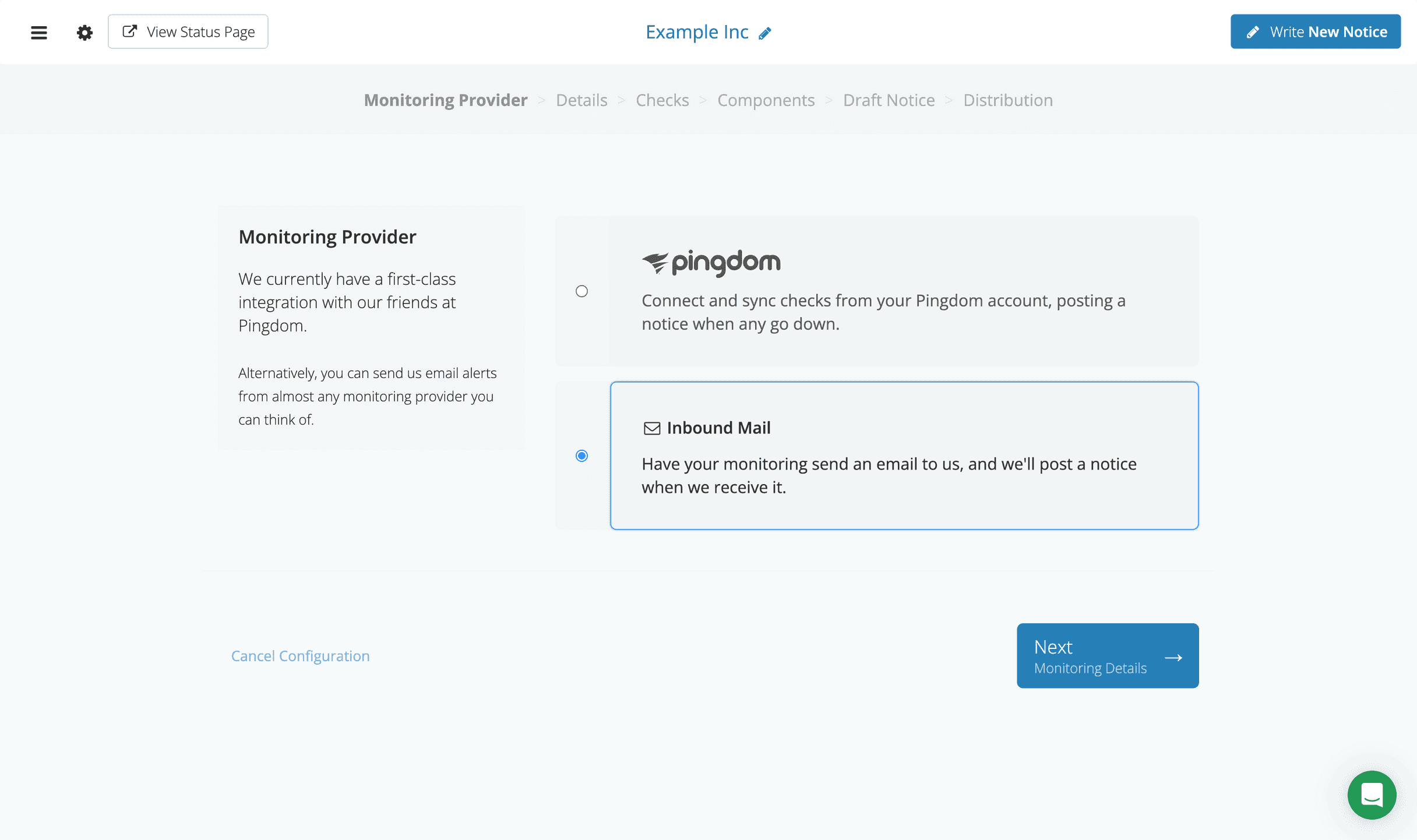 Pingdom Integration

Choose which Pingdom checks you'd like to trigger and we watch these for you, posting notices as checks fail.

Inbound Mail

Have your monitoring send an email to us, and we'll post a notice when we receive it.
Getting the Word out Early
Start ahead of the situation and banish the confusion
Jim Bloggs

11:32am

Hey @ExampleInc your site is down, but your status page says all is well? 😡

From Confused

Prevent customers feeling left in the dark and overflowing your support staff.

Kevin Von Daniels

11:32am

Looks like @ExampleInc are down, but seems they are on the case! 👍

To Satisfied

Getting the word out early will build trust and reduce the number of calls for help.
Integrate with Ease
Our first class setup and sync made especially for Pingdom customers
Just Add Pingdom Credentials

Connect and sync checks from your Pingdom account.

Choose Your Checks

Choose which checks match up with your status page components.

Draft Friendly Messages

Personalise the tone and content posted to the status page when checks fail and recover.

Notification Options

You may want to message your audience right away, or you might want to wait until you personally pick-up the story.
Other Providers Too
Have your monitoring send us email to a unique email address, and we'll post a notice when we receive it.
We'll check inbound mail for keywords in the subject line, triggering and resetting your automation.
Want to discuss your specific provider? We'd love to talk, get in touch.
Connect with an actual human today
Get your status page project underway with a personalised demo. Our friendly team of incident champions are ready for you.